Jewelry Making
How To Make Jewelry eBook
$10.99
Learn how to craft outside the box with How to Make Jewelry Out of Anything!
If your tweens and tweens love to make jewelry, but all the ideas out there seem to be… boring. Old. And just a tad too pricey.
How to Make Jewelry Out of Anything is the ultimate jewelry making guide for teens and tweens – and teens-at heart! It focuses on using unique materials to make your own jewelry!
No more cumbersome beads in boring colors.
No more tedious techniques to repeat a zillion and a half times.
In How to Make Jewelry Out of Anything, you'll learn how to think outside the jewelry making box. You'll also learn the basics of jewelry making, how to take these projects a step further and how to enjoy the process by being flexible with the results.
How to Make Jewelry Out of Anything features 42 unique jewelry making projects, including six that teach the basics of jewelry making. You'll learn how to use buttons, yarn, rocks, and even the contents of your recycling bin to make quirky pieces that showcase YOUR personality.
The projects in How to Make Jewelry Out of Anything are geared toward tweens and teens ages 10 and up. But if you're a teen at heart, love to craft something different, and aren't afraid to wear some COLOR, you'll love it too! (I'm 29teen years old and I designed these projects for myself!)
Related Products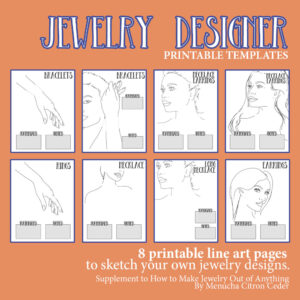 Jewelry Designer Printables
Plan your jewelry designs in advance with 8 printable templates to design your own jewelry! These line art models are a great way to get jewelry inspiration through doodles. Print each page as many times as you'd like for your own use and gather your plans into a binder.
You get 1 PDF file with eight pages. See the first image in this product listing for the exact thumbnails and product previews.
Rated 5.00 out of 5
$

4.99